EVERY DAY, WE TAKE CARE OF THE HEALTH OF MILLIONS OF PEOPLE.

We've been Italy's best-known self-care brand for over 50 years. We stand out for the excellence of our Made-in-Italy expertise, which makes us proud to represent the country internationally. What is more, we have a unique vision embedded in our most authentic DNA: we take care of the health of millions of people, solving their big and small problems in the easiest and most comfortable way possible. Case in point, we invented a disposable "no pain" syringe that has become an icon – and that was only the first step for our Indolor® Experience research, striving to make injections always faster and less painful. 
Today, thanks to our excellent, continuously updated technical skills, our know-how constantly grows. In our laboratories, we design leading-edge devices to aid respiratory health, heal any type of wound, and allow more flexible management of conditions such as high blood pressure and diabetes.

Our broad and diversified product range responds to the needs of an ever-evolving society, which is increasingly aware of the importance of health and wellbeing. Through every improvement, we never lose sight of the empathy and human touch that have been our trademark since the beginning: we are helpers, not instruments; we foster conversations, not monologues. 
Since 2018, we have been part of the MTD – Medical Technology and Devices group, born from the combination of two successful companies, Pikdare and HTL Strefa, with a combined experience of more than 80 years. This has enabled us to become international leaders in the technical-medical field, reaffirming our mission: to improve the future of healthcare, by helping people take care of their health every day. 
It's easy with Pic!

1963
Thanks to the visionary intuition of Cavalier Pietro Catelli, the first Indolor needle is created.
1982
The first disposable syringe is produced. It is revolutionary, and so is the launch campaign, whose slogan, "Fatto! Già Fatto?" (is it really done already?) is soon on everyone's lips.
1989
The range expands, and the "Per Fortuna Che C'è Pic!" (Lucky there's Pic) dressings line is created.
1992
Pic Professional, a division devoted entirely to hospitals and the medical professions, is created.
2000
A major innovation is launched in pharmacies: Pic Diabetes Care, a range of innovative and intuitive solutions that simplifies the lives of people with diabetes.
2004
Pic launches its first nebulizer, Air Therapy.
2011
Another revolutionary product puts the Pic brand in the spotlight: MySkin, a state-of-the-art, new-generation dressing.
2012
Creation of "Aiuta con Pic" (Help With Pic), a virtual platform that gives a voice to people living with illness and allows all to contribute to the achievement of real and significant objectives that improve the quality of life.
2013
The Design Language Solution project is born: the new products' colours, shapes and details are expressions of Pic's values, and they're even more simple and practical.
2015
The Pic it easy! project marks Pic Solution's venture into social networks, engaging in direct dialogue with people, providing simple advice, and resolving minor everyday problems, always with a smile.
2016
The Pic Health Station App is launched: a platform to connect people to Pic products through a simple, quick and intuitive interface. To record, categorize and share data with your doctor.
2017
Pic ThermoDiary is rolled out: an innovative range of connected thermometers that pioneer a new concept for fever readings. Temperature is taken quickly and accurately, without upsetting children, and data is recorded and shared in real time, even remotely.
2018
Insupen Advanced 34G launches: Pic's shortest and finest pen needle in the Insupen Advanced range. The crowning achievement of the Indolor® Experience research, it offers a quick, delicate and easy injection, minimizing any fear or discomfort.
2019
With the new For Breathing range, Pic takes a crucial step forward – by markedly expanding the options it offers for nasal hygiene and respiratory health.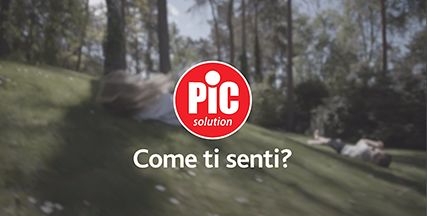 2020
In this very challenging year, Pic launches a new international, multi-channel communication campaign inspired by the most caring question in the world: "How do you feel?". Only a few, simple words thus tell the story of how beautiful it is to take care of each other.
2021
A year of intense technological research, topped off with three crucial launches for Pic Solution: the Silvergen cicatrisant range, which accelerates healing and protects wounds; the Si Silicon plaster with silicone technology, for painless Indolor® removal; and the innovative, wearable AIREasy On aerosol nebuliser with Mesh technology, for a new level of breathing wellbeing.